Welcome to our Landscaping Tips page. We have some tips to answer basic questions like what plants grow well in South Eastern Virginia, why isn't my grass growing, and what can I do to spruce up my yard? And of course, Marlowe's We Care Company can help implement any and all changes you would like to make. Give us a call and we can set up an appointment for a free estimate.
What to Plant?

What grows well in Newport News and Hampton Roads? Below is a list of plants that grow well in Williamsburg, Newport News, Hampton, Norfolk, Chesapeake, Virginia Beach, Suffolk, and Smithfield. We use these plants quite often in our designs since they are hearty and provide beautiful pops of color. This is by no means an exhaustive list, more like a few suggestions to help you get started. But, before you start turning that soil, make sure you know which spots in your yard get full sun, full shade, or partial sun, and are very wet or dry. Each plant has its preferences for the amounts of sun, shade and water they like the best.
Flowering Plants/Bushes
Azaleas (partial sun)
Camellias (partial shade)
Day Lilies (full sun)
Knock Out Roses (full sun)
Rhododendron (partial sun)
Bushes
Arborvitae
Boxwood
Flowering Trees
Crepe Myrtle
Kwanzan Cherry
Yoshino Cherry
Dogwood
Shrubs
Hosta (varies by species)
Lirope (typically shade)
Maiden Grass (mostly full sun)
Ground Covers
Periwinkle (sun and shade)
Ivy (varies by species)
Phlox (full sun to partial shade)
Top 3 Reasons your Grass isn't Growing
Use the reasons below to assess what your main problem (or problems) might be. Still feeling stumped? Set up an appointment with us to diagnose and fix the problem.
1) Too much water: Usually caused by improper drainage
2) Too much shade: You need to trim/remove your trees or change your grass type.
3) Soil content (too much clay and not enough nutrients): Lacking fertilization, ph levels are imbalanced and there is too much clay in the soil which prevents seed from getting roots.
Top 5 ways to Spruce up your Landscaping:
1) Turf Maintenance: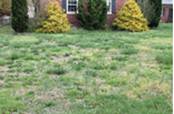 Kill the weeds and green up the grass. Just like people and pets, we all start to feel and look a little run down when we don't take care of ourselves by eating right and exercising. Your lawn and landscaping are no different. Turf Maintenance involves five steps that will ensure a healthier, thicker, weed free lawn.
1) Aerating the naturally clay rich soil here in Virginia gives room for the little grass roots to grow.
2) Applying lime to your soil helps break up the clay.
3) Seeding invites fresh new grass to grow in with the old and make your lawn thinker.
4) Fertilizer should be applied about 4 times a year, once in the spring and three times in the fall for optimum growth.
5) Applying a pre and post-emergent selective herbicide (weed killer) every 6 weeks starting in early spring will control the weeds. Keep in mind it can take 4 weeks for weeds to die off if you wait to apply a weed killer until they are already a problem.
2) Clean out Flower and Mulch Beds: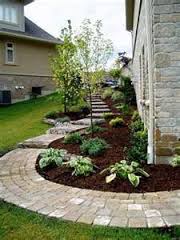 De-clutter your beds by clearing out all the weeds, leaves and other debris. Consider using a selective herbicide to control the weeds and make sure they don't come back. Don't have mulch beds? We can help. Creating mulch beds adds organization and curb appeal to your landscaping and helps the soil retain moisture. The dark mulch also serves as a nice contrast to brightly colored flowers and bushes… quite simply, it just looks better.
3) Pruning Trees, Shrubs and Bushes: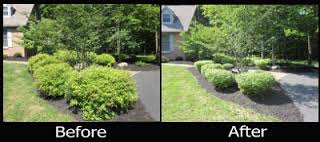 Everyone looks better with a nice hair cut, including your trees, shrubs and bushes. And if a few trees or bushes are dead or sickly, get them out! There's a reason they're not growing. The most common reasons are poor soil. Be it too much clay, not enough nutrients in the soil or an improper Ph level. Another common culprit is a full sun bush planted in a shady spot and vice versa. Know your plants needs!
4) Power Washing Driveways, Siding, Walkways and Decks:
It's amazing what a little power washing can do to make your outdoor surfaces look like new. Get black and green mold, dirt and build up off the surface of your concrete driveways, patios, brick and paver patios and walkways, vinyl siding and wooden decks using a power or pressure washer. And remember, after power washing a wooden deck it will need to be sealed to keep it looking like new.
5) Plant Flowering Shrubs and Plants: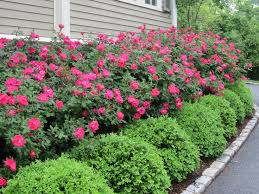 Add bursts of color to borders and flowers beds in your yard and break up the green from shrubs and trees. See our list of plants that do well in Hampton Roads to get your creative juices flowing. But, before you run off to your local nursery or garden center there are a few things to keep in mind. First we are in Zone 7 down here in South Eastern Virginia, so choose plants that will thrive in this zone. Also keep in mind the amount of sun and shade the sections of your yard that you want to plant in receive in order pick the plants that will be happiest there.