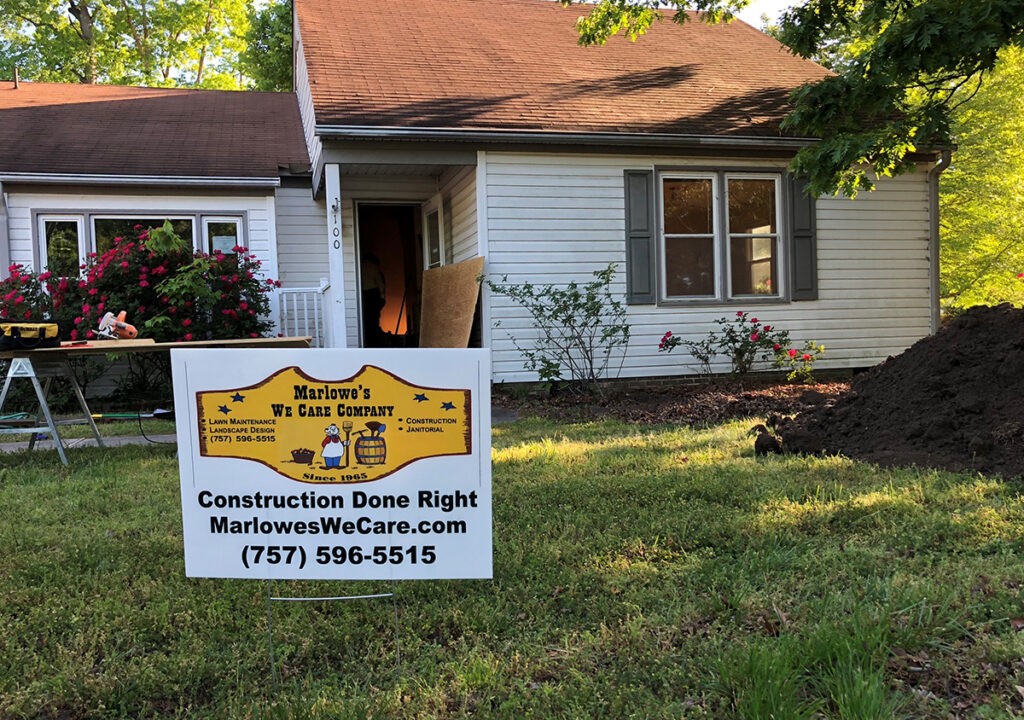 Wishing your yard looked like a country club? Maybe you just wish your yard didn't look so overgrown and unorganized. If you answered yes to either of these questions then it's time for a landscape makeover. Our landscape designers combine hardscapes (rock, brick paving, bullet edging, retaining walls etc.) and softscapes (sod, seeding, hardwood mulch, shrubs and flowering plants etc.) to create layers within your landscape that will catch your eye and bring compliments from the neighbors. Using flowering plants and shrubs in rock and hardwood mulch beds creates defined flowing spaces that will beautify your yard and make you proud every time you pull in the driveway.
Backed by over 55 years of experience, Marlowe's We Care Company is Hampton Road's premier landscaping company. We offer a variety of landscaping services. We can help you with all of your residential and commercial landscaping needs; patios, firepits, walkways, landscaping just to name a few. We have designed and installed beautiful landscapes and hardscapes throughout the Peninsula!
See our comprehensive list of services below.
Landscape Design:
Planting Trees, Shrubs and Flowering Plants
Retaining Walls
Rock, Gravel and Mulch
Brick Paving Sidewalks, Patios, and Driveways
Sod Installation
Drainage Issues
Grading
Landscape Bed and Lawn Maintenance:
Trenching to define edges
Application of Hardwood Mulch and or decorative landscape rocks
Weed Control Applications
Bush and Shrub Planting and Trimming
Lawn Maintenance: Grass Mowing, Edging and Trimming
Turf Maintenance:
Core Aerate, Fertilize, Lime and Seed at optimal times of year to promote growth

What is Lime? Lime application (Calcium) helps break up the clay rich soil here in Virginia so the roots of your current and newly seeded grass have room to grow

Crab Grass Preventer
Pre and Post Emergent Herbicide to keep the weeds from growing
Insecticide for June Bugs, grubs, ants, ticks, fleas and many other pests
Monitor for insect invasion, signs of fungus and weeds, apply spot treatments as needed
Winterize (Fertilize and treat for weeds)
General Lawn Services:
Pressure Washing: Buildings, Concrete Drives, Walkways and Patios, Brick, Wooden Decks, Rust Removal, Degreasing from Concrete and Brick
Landscape Design
Lawn Mowing
Sod Installation
Sprinkler System- Installation, Repair, Winterize and Activations
Turf Maintenance: Aerate, Fertilize, Lime, and Seeding
Herbicide and Insecticide for Lawn and Turf (weed and damaging insect control)
Mulching and Mulch Bed Maintenance: hardwood mulch, weed control, planting flowers, plants, and shrubs)
Drainage
Trenching
Grading
Certified Retaining Wall Builders, Interlocking Stone or Wood
Brick Paver Sidewalks and Patios,
Brick and Stone Driveways
Rock and Gravel
Bush and Shrub Trimming and Pruning
Tree Trimming, Removal and Stump Removal
Site Remediation (Have an unsightly over grown area? We can fix that!)
Fall/Spring Clean Up
Leaf Removal
Dear Scott,

Thanks so much for your time and effort in making our front yard a showplace. We have had so many compliments. The word golf course as been thrown around. We feel very fortunate to have you for our continuing lawn service.

Love, Ed and Carol H.
Quality Assurance:
Marlowe's We Care Company Implements a Quality Assurance Program to ensure our clients are completely satisfied. Our goal is to be your provider for many years to come. Our Supervisor is required, at the completion of his weekly work on your property, to come to your manager and ask for a property walk through. We encourage your managers to take a few minutes to do this with them. It is an opportunity to speak with one another to build a relationship and correct any visual deficiencies immediately. This keeps us very conscience of your property and its condition and insures you are satisfied with our work.