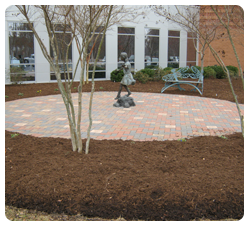 Backed by over 45 years of experience we offer a variety of services and programs that will keep your landscaping looking trim and professional. All of our services come with our Quality Assurance plan to ensure you are happy with our work and we are able to quickly address any landscaping needs.
Services:
Mowing, Trimming, and Edging Services
Tree and Shrub trimming and/or removal
Mulching
Brick Paving Sidewalks and Patios
Drainage Issues
Erosion Control/Slope Stabilization
Leaf Removal
Site Remediation (Have an unsightly over grown area? We can fix that!)
Spring Clean Up
Fall Clean Up
Enhancement Programs-Flower rotations with seasonal color, mulching.
Pressure Washing: Buildings, Concrete Walkways and Patios, Brick, Wooden Decks, Rust Removal, De-greasing
Snow Removal
Year Round Commercial Landscape Maintenance Program:
Our year round Commercial Landscape Maintenance Program will ensure lasting curb appeal for your business and includes the following services:
Mowing, Edging and Trimming Services
Aerate, Lime, Fertilize and Seed
Turf Pre and Post Emergent herbicide and insecticide applications
Bed Enhancement Programs-Mulching and flower rotations with seasonal colors
Tree and Shrub trimming and/or removal
Spring Clean Up
Fall Clean Up
Leaf Removal
Snow Removal
Quality Assurance:
Marlowe's We Care Company Implements a Quality Assurance Program to ensure our clients are completely satisfied. Our goal is to be your provider for many years to come. Our Supervisor is required, at the completion of his weekly work on your property, to come to your manager and ask for a property walk through. We encourage your managers to take a few minutes to do this with them. It is an opportunity to speak with one another to build a relationship and correct any visual deficiencies immediately. This keeps us very conscience of your property and its condition and insures you are satisfied with our work.